I asked my friend how much he'd want to stain our deck and he said he had a better idea….
He has a small apartment and needed a computer center that also had some shelving for books, etc.
He already had a glass table top he wanted to make use of and there was a little used corner he thought would be a perfect place for it. As luck would have it, this corner's back wall had a protruding 10″ deep ledge. and was at an acceptable height for our 'desk'
This meant, in order for us to support the glass top, I only had to build a single lower cab to support the left side and simply attach a cleat on the right hand return wall to support THAT side of the top.
As the glass was only 42″ wide along it's front edge, I had to build this cabinet somewhat narrow to allow a comfortable width for the sitting area.
So we made it only 12″ wide and I included a small drawer at the top. For fun, I made a hidden pocket on the backside of that drawer.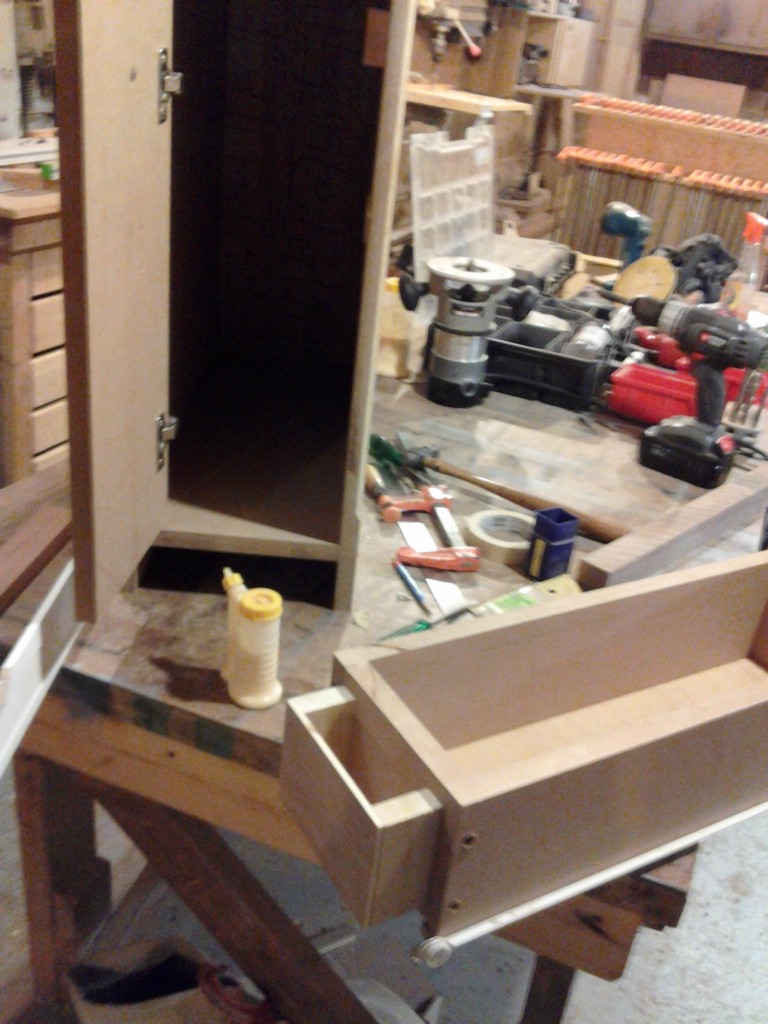 Then we made the shelving section, to sit above the counter, against the back wall.
He took a bar stool he already had and painted all three pieces to match.
I'll build him a small swing out arm on the right hand wall to mount his monitor on so it can be swiveled out of the way when not in use.
I don't think these photos will adorn the pages of 'Fine Home Building' magazine but… he's a happy guy… & my deck is protected from the elements for another couple of years. Like a lot of 'trades' (no cash involved), this was a win-win.