When she was young, her father made a small coffee table from a natural edged plank of wood he'd found.. She asked me whether I could make a dining table that was also 'natural', to seat six. Her dining room was small and had enough room for something 32 by 72 aprox. She was a friend I'd met on social media… and I told her I'd look for a flitch (single slice, natural slab, cut from the tree) of that size.
She lives 2 hrs drive from my shop so I suggested I send her emails with photos attached to show her what I got, what it will look like and how I'd cut it down to it's final shape. She wanted it fairly dark in color but I always try to find a wood that is close to the finished color rather than using a stain, as it can obscure the grain to some extent.
I found her a flitch from a walnut tree that HAS to be over a hundred years old. Then I sanded & wet an area to indicate what it will look like.
She agreed with my suggestions and so we established the shape of the top. I had removed the bark (both 'inner' & 'outer') and the blond, cambium layer… and then rounded the four corners. The sapwood & heartwood are what's left.
I used solid walnut for the legs ( 4″ X 4″).  I positioned the legs wide enough to make sure the table would be stable ( the top is only 30″ wide).
I sanded it using finer & finer grit sand paper until very smooth. Every woodworker knows what happens when you start applying your first coat. This surface was no exception.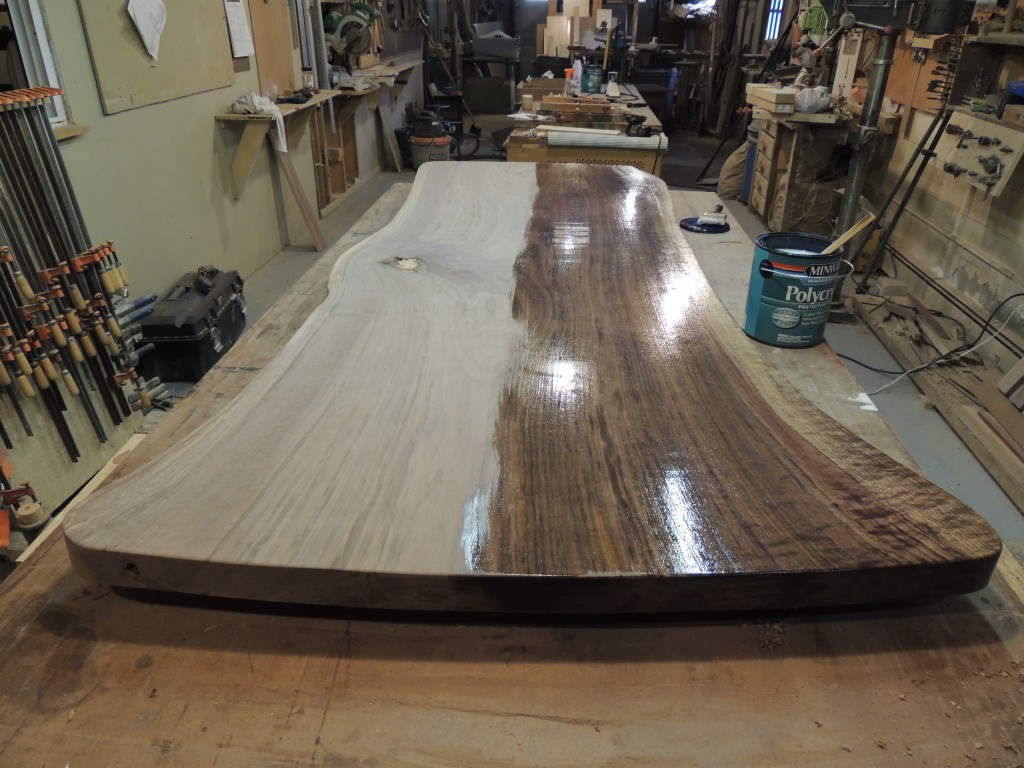 I made my legs & skirts with chamfered edges (45 degree angled cuts). A single coat to seal the table top's bottom side and then five coats to all visible surfaces.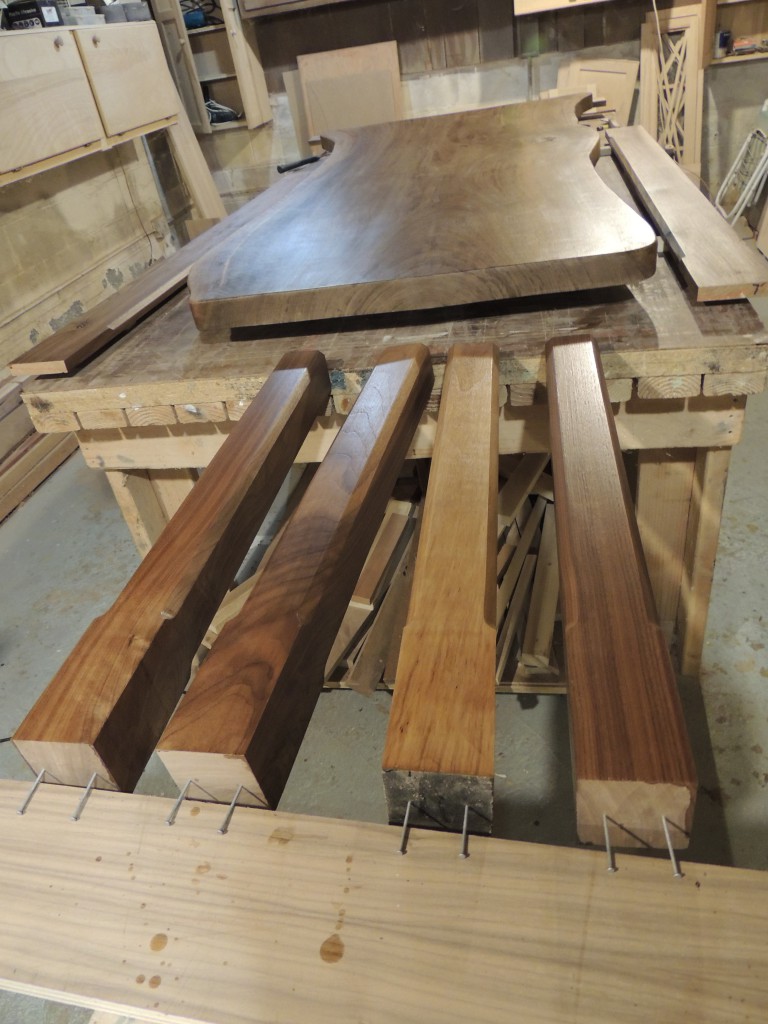 I used table bracket hardware (so that the legs were removable for transport).
I didn't ave the heart to reduce the table tops thickness (2″) so it ended up weighing about 175 lbs. This table will be around long after we who are reading this are gone.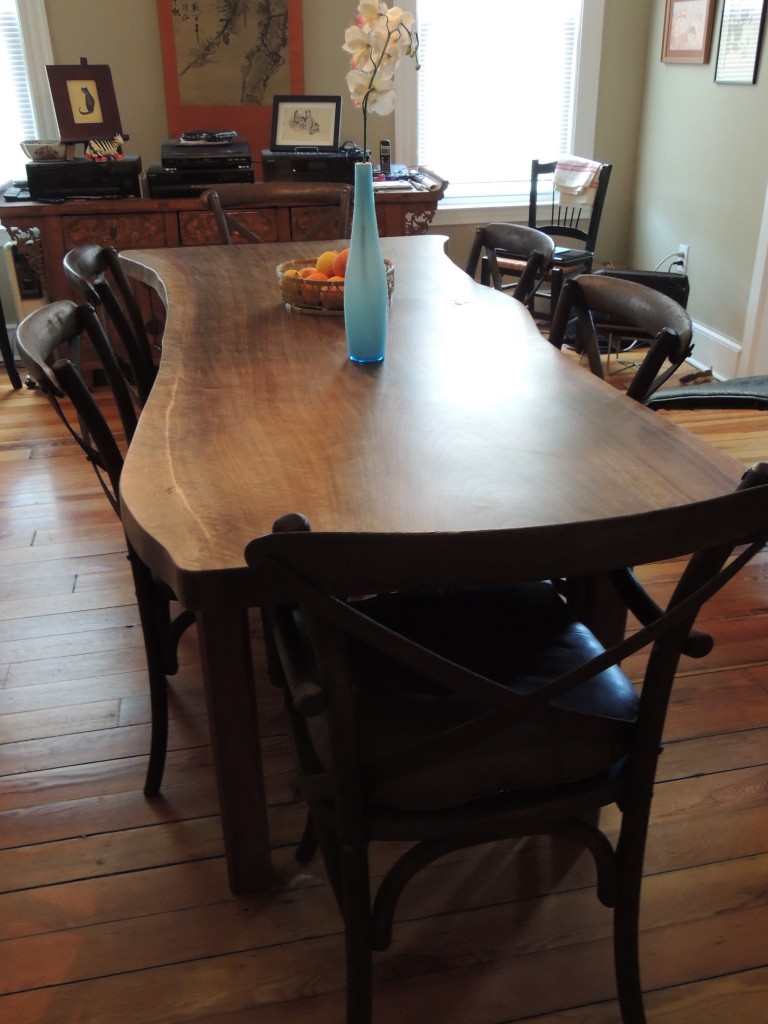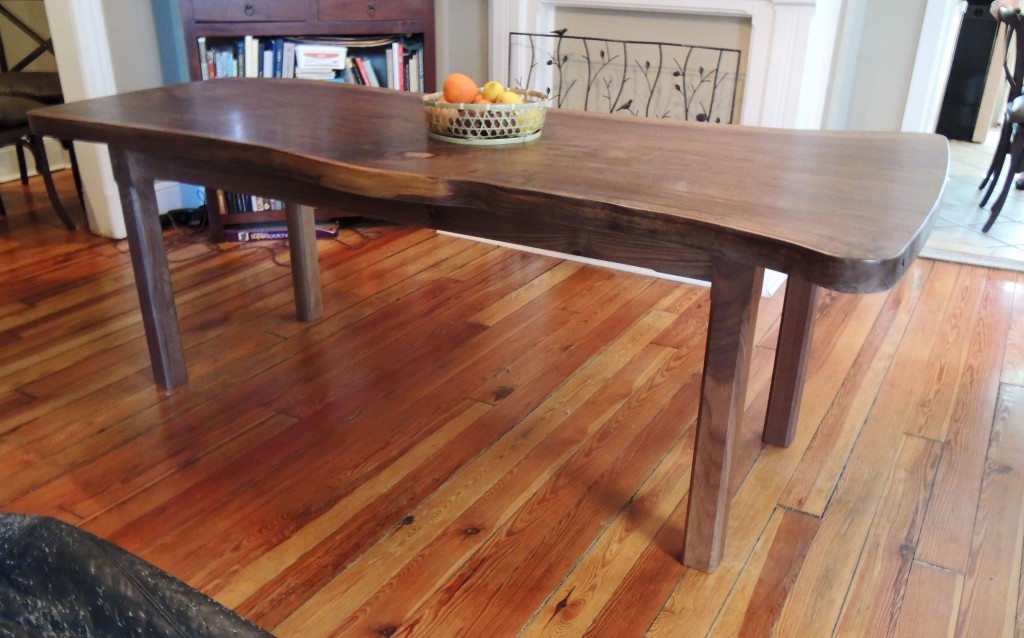 I have a very happy client. Happy clients are the best salespeople you can find (or make).
Russell Hudson / Hudson Cabinetmaking, Inc. / 6.13