We've fabricated quite a few bathroom vanity designs over the years. The general contractor brought us in to create a double vanity in a new addition he built for this couple's home. The original house was over 200 yrs old so we designed cabinetry with wider stiles & rails and inset the door & drawer fronts to give it more 'age' and class. They each wanted their own sink, medicine cabinet and drawers. We had two adjacent walls to work with. We placed his sink area on the left wall… and hers on the right, with a make-up desk (to sit at) included.
Here is the floor plan and both face views…
Their architect had repositioned the entry door, leaving us less wall space for her area, so we narrowed the make-up desk and placed it at the end of the cabinets, to the right. The architect also eliminated the wall cabs (so they could have recessed ceiling lights and wall mounted mirrors with sconces above) ……and he replaced them with a 'tower' in the corner (for the two medicine cabinets) instead. After adjusting our numbers and modifying the plan, we got to work.
Here is the architect's sketch on my floor plan rendering…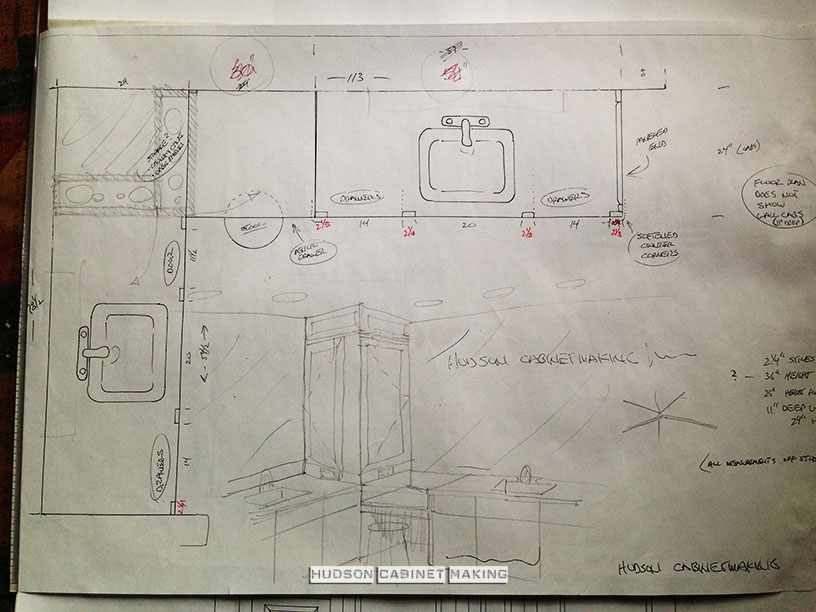 And here is how it turned out…
Russell Hudson / Hudson Cabinetmaking, inc.