We had worked with this client before on numerous projects. They had an apartment in Manhattan as well as their country home, a nearly 200 year old farm house they had been renovating slowly but surely since they bought the place ten years ago.
When they called asking about our building a bar for them, I figured it was that basic, finished basement bar we'd made for clients a dozen times before.
However, when I arrived, they showed me a small closet with a standard door (30X80) and suggested that, perhaps, the bar could fit inside the closet w/o any modification to the size of the opening. I was still scratching my head when they went on to show me a series of pictures of an antique, Deco-style bar. A small unit, (on wheels) they had found for their apartment in the city.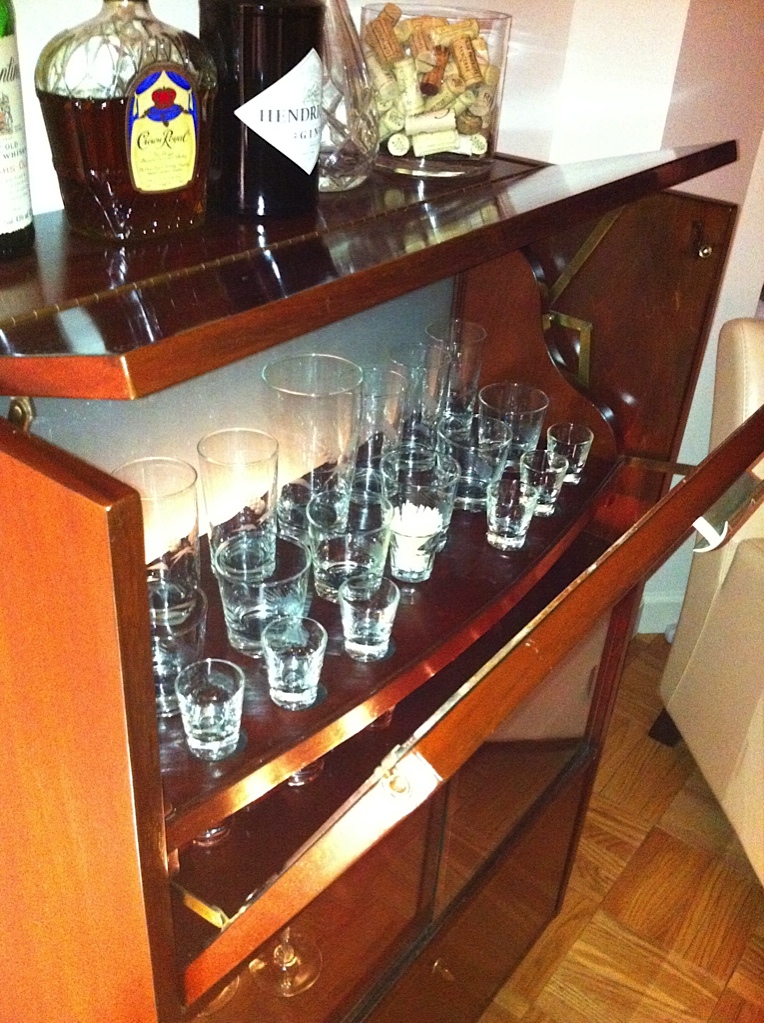 He loved this bar because, upon first inspection, it was all enclosed, but as you opened the front panel, which hinged outward and down, three things happened. First, the panel opened only 90 degrees so it's back face acted became the surface to prepare cocktails on. Secondly, a clever arrangement of brass arms automatically lifted away the unit's ceiling AND thirdly, also caused a tray of a dozen glasses to rise up and outward towards, what I'd imagined was, the tuxedoed host, serving his guests in some old, 1930's movie. It was a very cool, old bar.
Right after their explanation and photos, they looked over at me and simply smiled. Following an uncomfortable silence, I said "aah… sure! We can do that".
Driving back to the shop, I thought of what might reasonably be done w/o subcontracting a machinist, mechanical engineer… and perhaps, a therapist.
It had to store SO many things… 40 bottles of liquor & wine, shot glasses, scotch tumblers, wine glasses AND… a wine cooler (and the stereo distribution amplifiers for the whole house that sat inside this closet already)
I positioned the serving section half way up the opening (at standard working height) and let the above and below areas handle the storage for all the bottles and the cooler.
I envisioned a means of having the tray of glasses come out towards you as you opened the bar's door panel.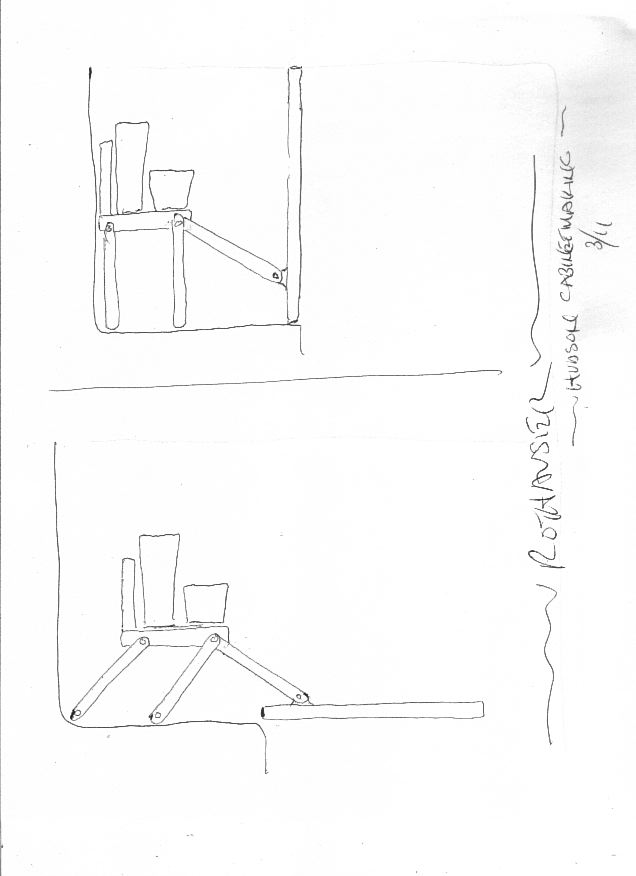 They liked the design and trusted us to figure out the mechanism. So we began.
What was so great about their antique bar was how tightly everything fit inside when it was closed, but how easy to get to it all when open. The movement was relatively simple, but there were a number of requirements for this contraption. How far would the tray move when the door was opened? Would it miss the wine glasses hanging from it's ceiling?  The swing-down door was to have a mirror on it's back side to act as a counter top to mix drinks on… which made it heavy. I found some adjustable tension, brass flap stays to 'cushion' the door from slamming into it's open position (held at 90 degrees). I knew we had to build an operating model (wooden prototype) before committing to the actual construction.. Here is my cellphone's video of the mock-up.
We adjusted arm lengths, pivot points and the amount of tension until we liked how the mechanism moved. I ordered 1/8″ x 3/4″ brass bar stock to make our arms. It was soft enough to be a pleasure to work with.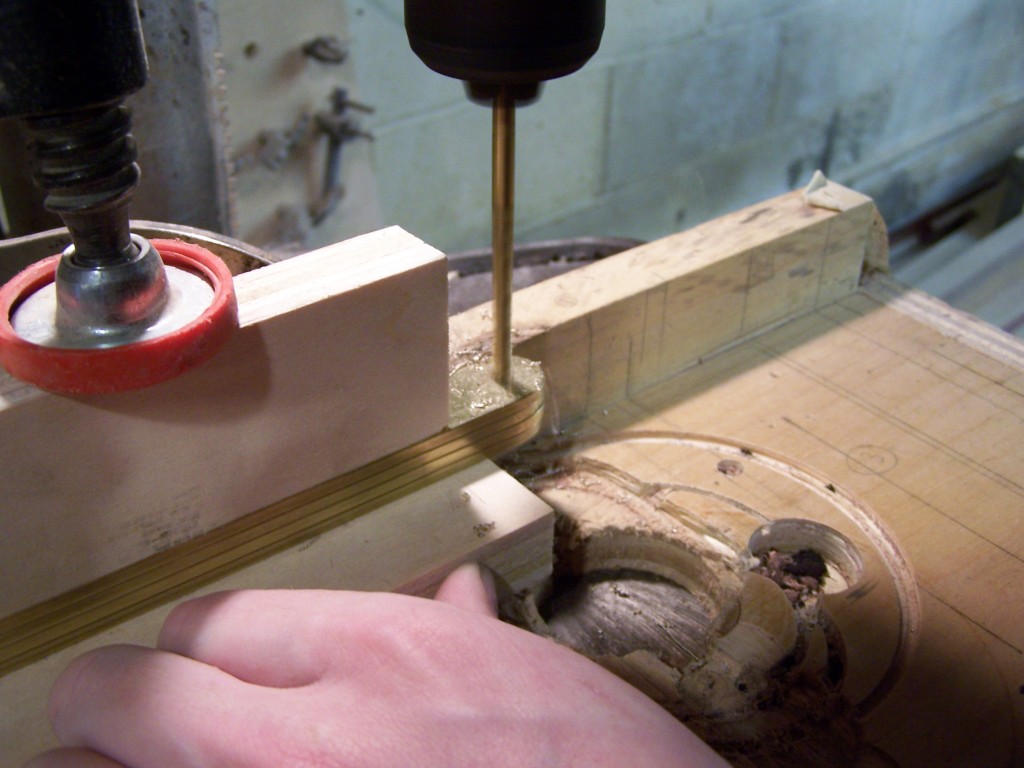 Next we designed a handsome, functional tray for all the glasses… in mahogany with thick, ebony inlays. My son (always eager to do finer, more intricate work) volunteered.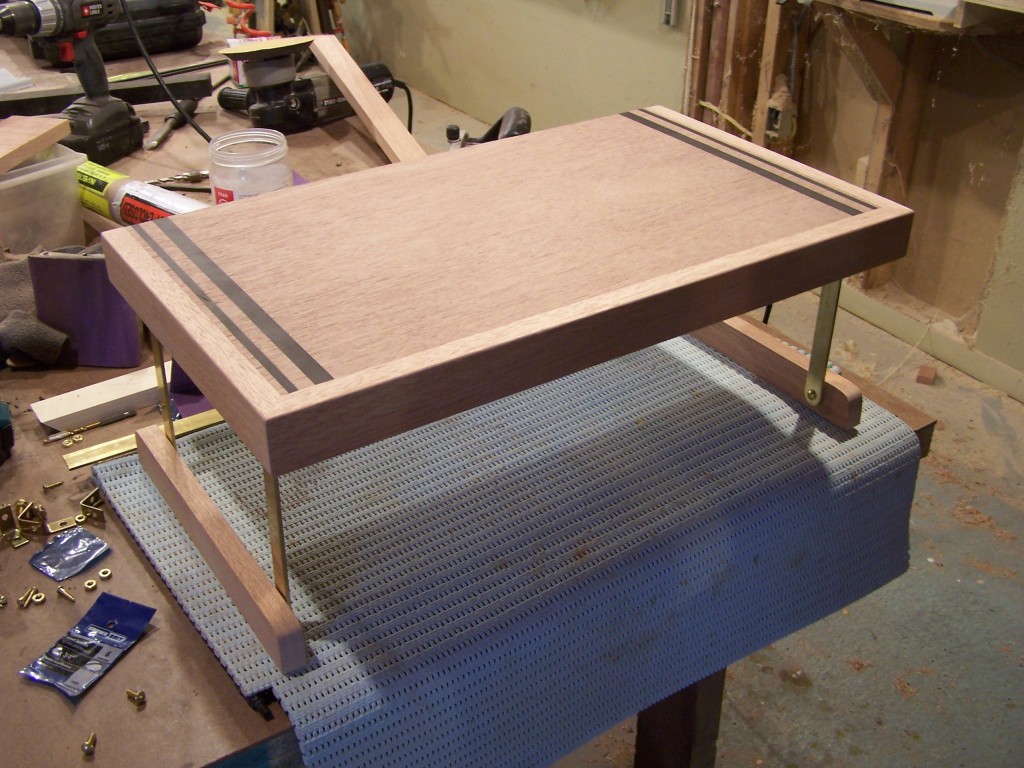 We created three tiers for glasses. Each glass sat within it's own recessed circle, lined with felt. We made decorative side walls left, right and across back.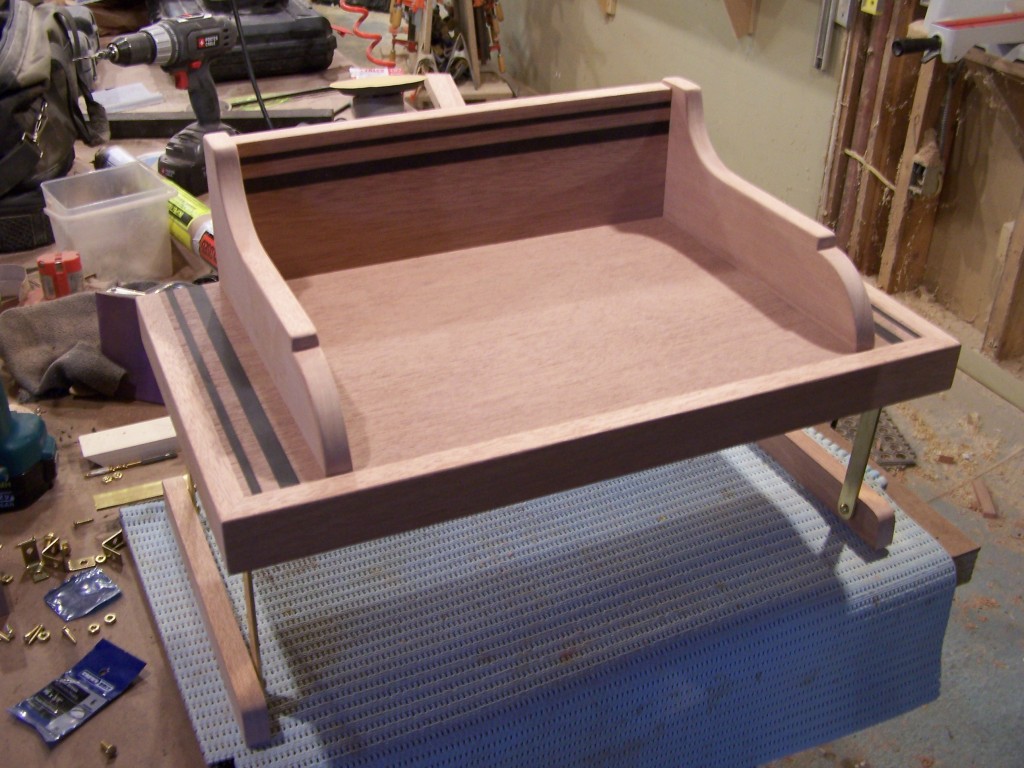 A brass lamp was mounted above. It illuminated when the door was opened. Here's how the tray looked following it's lacquer finish.
Because the closet's interior had more room to the right of the doorway, we needed to create an extension that had to be removable during installation. The lower shelf configuration was also removable to allow access to the audio distribution system..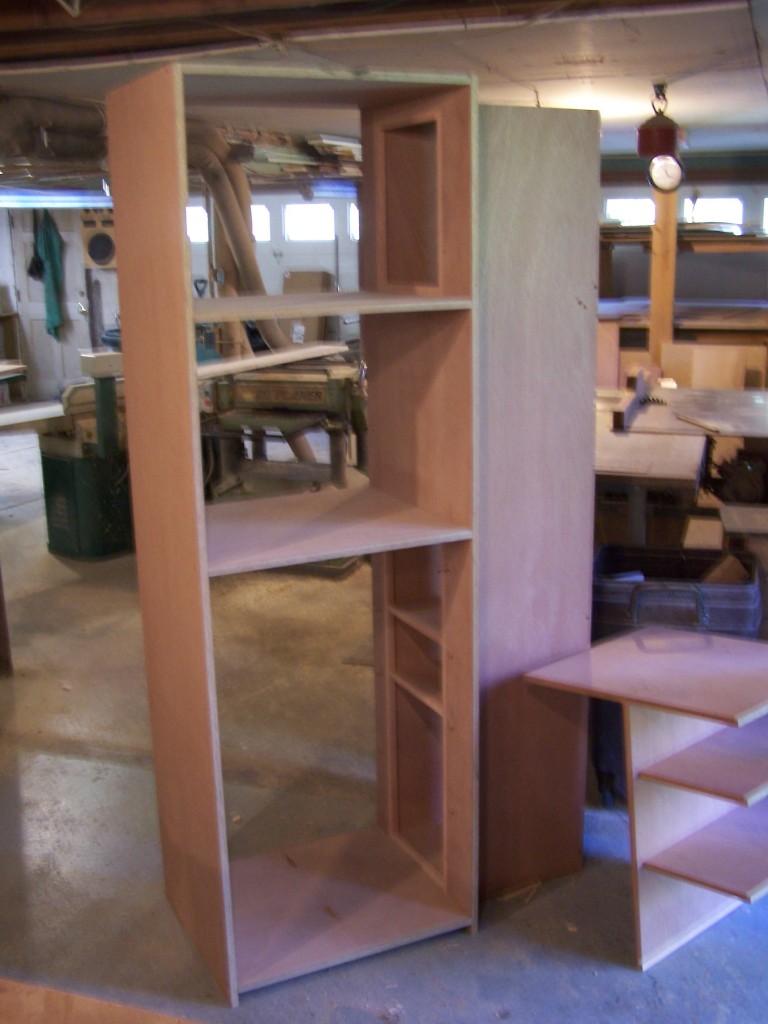 The wine cooler required ventilation… and with no other way to circulate air other than through the front, I suggested these  little 'jail house' doors. This picture is from another project done a few year back.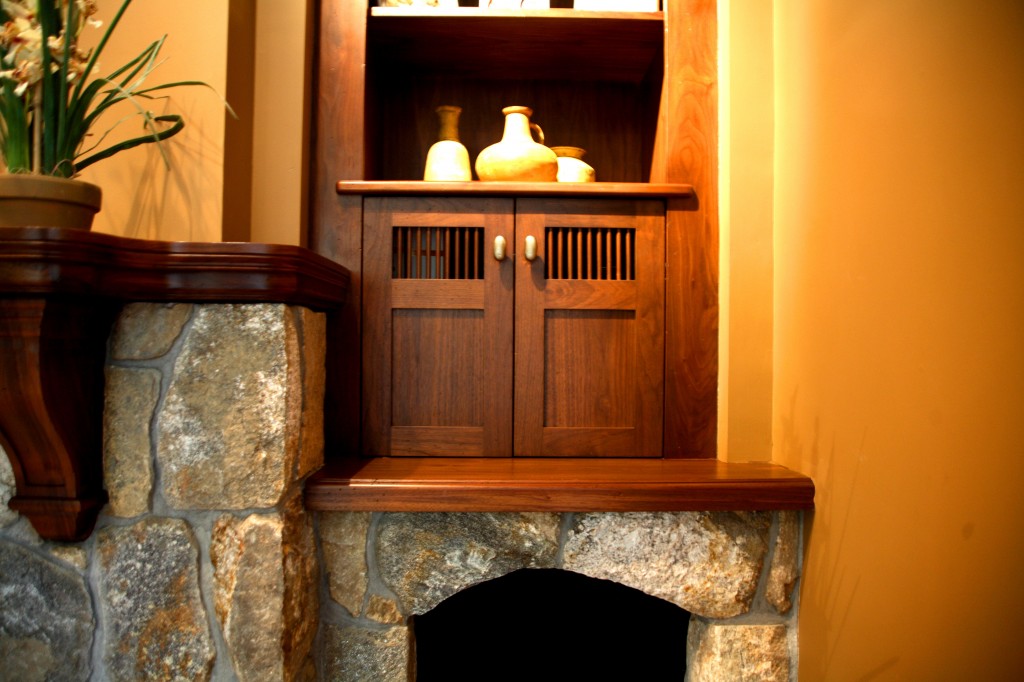 We've done a number of projects for them (four of which are in a single room). Here is a short video of that room after all was completed.
Room with Hidden Bar in Closet
Russell Hudson / Hudson Cabinetmaking, Inc.