People love their home bars…
We have created so many custom built home bars over the years. In fact, the second job I ever got paid for was for one. We just made another for a loyal client of ours.
Meeting his needs…
When you came through the front door of his new home, the first room you entered had three couches surrounding a large fireplace and very large windows. It was where he would entertain friends. He wanted to have a cocktail bar built into a small niche on one of the walls …but wished for it to be very handsome as it would be seen by all.
The interior designer (Leslie Gustafson) and I had collaborated on a number of other projects for this client in previous homes of his. She understands woodworking better than most and trusts my instincts. So after meeting with both of them, I designed what I thought would address all their concerns.
Getting it done…
Here you see my rendering (modified from a previous sketch that had a wine cooler on the left).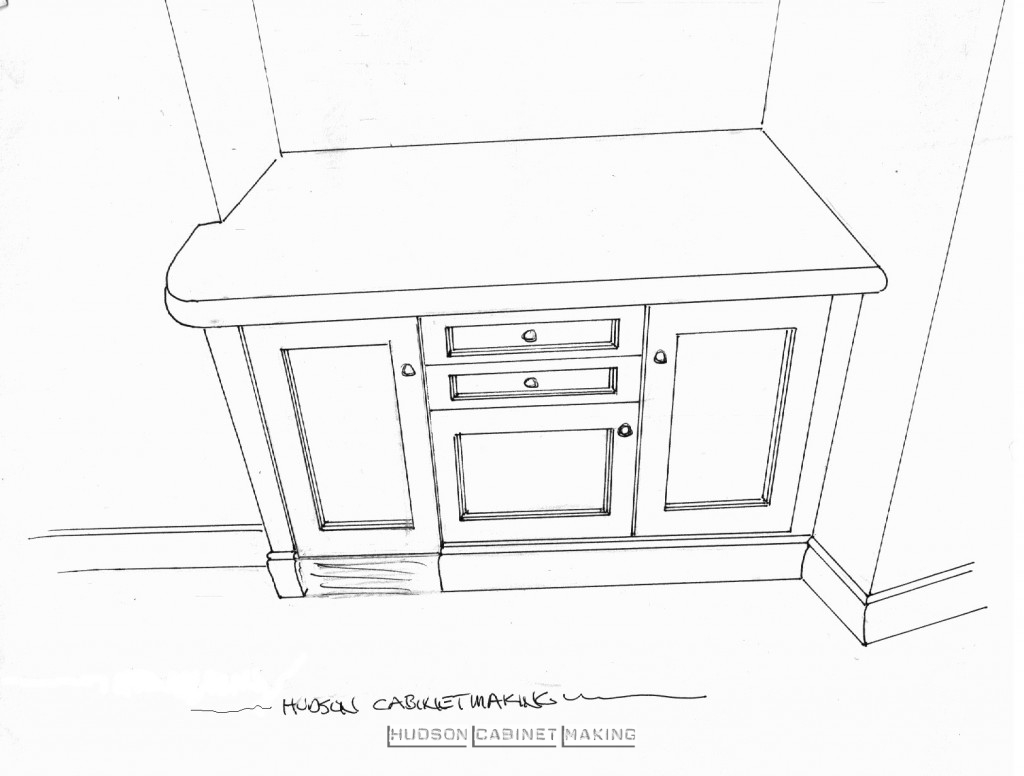 He and I visited a reclaimed lumber place I deal with and selected some old timbers that we would use to make the bar's countertop. These heart pine planks were 2.5 inches thick. You can see the original (circular) saw marks from the mill.

I jointed & planed (dimensionalising) the planks and kept as much thickness as possible. The timbers were so old that the darkened patina existed throughout it's depth (not only at the surface). Here they are with biscuit slots and ready to be joined.

Here is the assembled counter ready for tung oil and a urethane top coat. The oil seals both top & bottom from moisture. The top coat both fills the checks (thin splits) and makes the whole surface very durable. If you are going to create custom built home bars, they should be made to last a long time.

…. and how the grain contrast increases after finishing…


I made the cabinet from walnut. Nothing was stained here, neither the top nor the cabs . All the color you see is natural . I do think the walnut will look even better in a few yrs, after it's been beat up a bit.
The tall drawers are actually pull-out shelves that hold various sized bottles. Soft, self closing slides are a must for this application.

The counter fitting into the wall was liked so much that we didn't want to add a backsplash and hurt that 'clean' looking design so I designed a low profile one …and we attached knobs, of course.

This was but one of the four projects we built for his new place. I'll be posting the other work here soon.
Russell Hudson / Hudson Cabinetmaking, Inc.